Trusted by families, cemeteries, museums, historic sites, veterans organizations, parks, schools, businesses, sports teams and other institutions since 1949, Christiansen Memorials offers a full range of memorial and monument services, from design to installation to post-installation work. We also offer pre-arrangement services if you wish to design and purchase a tombstone or funerary monument for yourself, relieving your family of the task ahead of time. Because our client satisfaction is so high, many families and businesses return to us for second, third, and fourth monuments for other family members. We are honored to share some of their testimonials with you.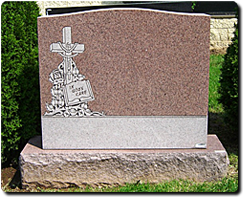 Design. We help our clients design beautiful memorials to commemorate their loved ones. From simple tombstones to ornate, hand-sculpted pieces, we produce lasting, quality memorials that meet your budget, reflect your loved one's personality, and honor your family name forever. We also design signs, cornerstones, date stones, dedication plaques and other monuments for public clients, private institutions and businesses. We make frequent trips to Vermont to meet with our suppliers and vendors, assuring that our granite is always top quality. Our bronze monuments are finely cast and built to last. To see samples of our work, please visit our showroom, view photographs on this website, or visit our installations throughout the Delaware Valley.
Installation. We have the capacity to create and install memorials and monuments of all shapes and sizes. When Christiansen Memorials installs or relocates your memorial, we make sure it is clean, level and sturdy. Building a proper foundation is one of the most important aspects of an installation. Our careful work ensures that your memorial is set properly to withstand the test of time.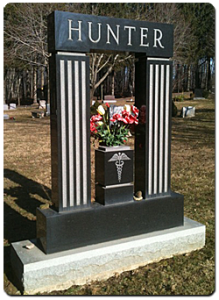 Inscriptions. If you need to add an inscription to an existing memorial, we visit the site first, record the original design and lettering in a variety of ways to ensure that the new inscription will match perfectly, then return with the proper materials to letter the inscription on site.
Cleaning and Leveling. Memorials sometimes need to be repositioned or cleaned to look their best, especially if they were installed long ago. Inadequate foundations, ground movement, erosion, falling trees or branches, disruptive tree roots or vandals may move or damage a memorial, tilting it or knocking it over. Inclement weather may make memorials dirty or moss-covered. Christiansen Memorials can clean and level your memorial, restoring pride and the piece's original beauty at the same time.
Military Monuments. We love to serve our veterans! Our company's founder, Edward T. Christiansen, Sr., served in World War II and fought in the Battle of the Bulge. Edward T. Christiansen, Jr. followed his father into the military and served in Europe during the Vietnam War. Military service demands incredible sacrifices, and we are especially proud of other military veterans in our community. We have made and installed countless monuments for them, including veterans' tombstones and public war memorials. For example, we made and installed the World War II monument in Doylestown, Pennsylvania, adjacent to the Bucks County Courthouse. As an additional way of honoring our veterans, we keep a supply of American flags on hand to replace missing or broken flags at cemeteries where we work.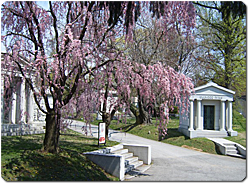 Pre-Arrangement. Increasingly, people pre-arrange their own funerary monuments before passing, preferring to take the emotional and financial burdens off their families. We offer pre-arrangement services, allowing you to design and approve your completed memorial at your leisure. If you have already purchased a burial site, we can install the memorial for you right away, if the cemetery allows it. If you prefer to have the memorial installed only at the time of interment, we can store your completed monument safely until it is needed.
Photo Galleries
Testimonials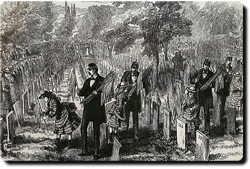 "Just a little note to say thanks for a job well done. The entire family was pleased with everything."
~ The C. Family
"I want to let you know how extremely pleased I am with the engraving on my family's memorial. Your design complemented the old engraving in a very graceful way. The Jewish star and the American flag were done in the finest manner. Thanks for making the memorial one which will make us proud for many future years."
~ Anne
"You were very helpful and accommodating. You represent your product in a professional, caring manner."
~ Catherine
"Recently you created and installed a marker for our parents and brother at rest in St. John Neumann Cemetery. You did a wonderful job; it is beautiful. Thank you so very much. However, I must say that you went above and beyond when you fixed my daughter's marker, only a couple of rows over, free of charge. I am compelled to mention this great act of kindness and generosity because it meant so much to me. Now when I visit her grave and her marker lies perfectly in the ground, we have honored her. Thank you for your service!"
~ The Rivera Family
"I am very pleased with the memorial you placed for me. You did a fine job. It was everything I expected. You were very nice to deal with."
~ Mrs. Taylor