FREQUENTLY ASKED QUESTIONS:
What makes Christiansen Memorials better than other monument companies?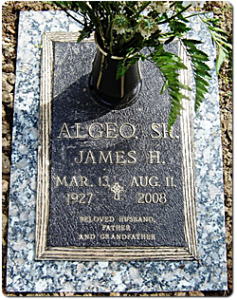 Since 1949, three generations of Christiansens have designed, made and installed monuments at hundreds of different cemeteries, museums, historic sites, war memorials, parks, schools, businesses, sports stadiums and other locations. After more than sixty years in business, we have seen monument styles and materials change, have solved every type of monument problem, and have seen competitors come and go. When you choose Christiansen Memorials, you get the benefit of our vast experience. You'll work directly with Edward T. Christiansen, Jr. ("Ed"), Edward T. Christiansen III ("Chris") and Thomas Christiansen, Jr. ("Tom").
We have designed and installed thousands of memorials in public and private cemeteries in Pennsylvania, Delaware and New Jersey. We offer memorials in every size, shape, style, color and price, ranging from the simplest tombstones to the grandest mausoleums. Each piece is designed with the utmost care to reflect your loved one's personality, life and interests, all while staying within budget. We maintain strong relationships with local funeral directors and cemetery supervisors who value our professionalism, integrity and strong work ethic. We work closely with them to ensure that your memorial is installed properly and meets all regulations.
We also have many public and institutional clients in the Delaware Valley. For example, Christiansen Memorials has worked for the James A. Michener Art Museum in Doylestown, PA; Nobel and Pulitzer Prize winning author Pearl S. Buck's Green Hills Farm, a National Historic Landmark in Perkasie, PA; Citizens Bank Park, home of the Philadelphia Phillies; the Philadelphia Museum of Art; Pennridge High School in Perkasie, PA; Germantown Academy in Pennsylvania; and many other clients.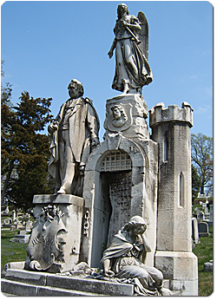 We take great pride in giving our clients exceptional customer service, paying strict attention to detail and offering the most competitive prices. We only deal with manufacturers whom we know and trust, so we're confident you'll receive the best quality memorial at the most reasonable price. We never pressure customers to make a purchase. Our clients are so satisfied that many of them return for a second, third or fourth memorial for other family members. We are honored to help families through the difficult and emotional task of choosing a dignified memorial. We also enjoy helping businesses, schools and other institutions design the best monuments for their needs. Receiving "thank you" notes is one of the most rewarding aspects of our work. You can read some of them here.
When you choose a memorial, perfection matters. If something goes wrong, we won't rest until it's right. Since 1949, Christiansen Memorials has treated every job as if it's for someone in our own family, because our family name is on your memorial.
How do I know what kind of funerary monument I can have in my cemetery?
Christiansen Memorials is well-versed in local cemetery requirements. Allowable memorial types and sizes depend on the location and size of your cemetery lot. Some sections are restricted to flat markers; other sections allow upright monuments, sculptures, tablets and mausoleums. Columbarium requirements may also vary. Some religious denominations have additional requirements about the type of design you must have. You should always consider the type of memorial you may want when arranging to buy a cemetery lot. If you have already purchased an interment site, refer to the documentation you received when you bought it. If you have any questions, contact the cemetery office or Christiansen Memorials.
I have never bought a cemetery memorial. What should I do first?
Before you can choose a memorial, you must decide where you are placing it. If you plan to put it in a cemetery, you must purchase a specific lot for the interment. If you already own a cemetery lot or columbarium space, bring the documentation you received when you purchased the site. If you are placing the monument in your family cemetery or in another private location, check for any relevant restrictions. If you do not know what the restrictions are, we are happy to help you. When you come to Christiansen Memorials, bring any documentation you have regarding the installation site's requirements. Also bring your loved one's dates of birth and death, any quotes or images you think you might like, and a willingness to explore your options. We'll work closely with you to design a beautiful, dignified, high-quality memorial for your loved one, within your budget.
What determines the cost of a memorial?
A wide variety of factors determine the cost. The quality of material, the size, shape and style of the memorial, the number of characters in the inscription, any hand-sculpting work, and installation fees all impact the cost. Christiansen Memorials always presents our clients with detailed cost breakdowns and we offer very competitive, reasonable prices.
Another company installed my family's tombstone a long time ago but now they're out of business. The stone is dirty and tilted. I also need another name inscribed on it. Can you help me?
Absolutely, we can help. When a funeral director or family contacts Christiansen Memorials to add an inscription to an existing monument, we visit the monument in person to verify its location. We record the design of the existing inscription in a variety of ways to ensure that the new inscription matches perfectly. The new inscription is engraved on site within a reasonable time. If the monument needs to be leveled or cleaned, we can add that to our services.
I want to choose my own memorial. Can you help me design it and arrange for its placement?
Yes, Christiansen Memorials offers pre-arrangement services. Planning for, designing, and paying for your own memorial ahead of time ensures that your wishes are carried out. It also alleviates the uncertainty and emotional and financial stress your survivors may experience during the traumatic time following a loss in the family. Pre-planning allows you to pay today's prices, consult with family members at your own pace, understand and ask questions about the cemetery's requirements, and make the purchase without time pressure. Christiansen Memorials leads you through the process step-by-step, making sure we design the memorial you really want. We take the time to understand your interests, personality and preferences so that your memorial reflects your individuality. If you have already purchased a burial site, we can install the memorial for you right away. If you prefer to install it only at the time of interment, we can store your completed memorial safely at our facility.
I want a memorial identical to the one I bought for my parents. Can you match it?
Yes, we will do our best to match it. Working closely with you, we inspect the original memorial, take measurements and photographs of it, and discuss your options. Sometimes, the original materials are no longer available. In those cases, we can acquire materials that match the original very closely.
Do you sell granite, bronze and marble monuments?
Today, most outdoor monuments are made of granite or bronze. These materials are much stronger and more durable than marble, which deteriorates when subjected to the elements. Therefore, most of the monuments Christiansen Memorials produces are made of granite, bronze, or a combination of the two. However, if you need to replace a damaged or deteriorated marble memorial, we can do that for you.
Do you have samples I can see? Can you help me design a one-of-a-kind memorial?
Christiansen Memorials can help you create a unique design for your memorial, no matter what your budget is. Our office has hundreds of sample monuments, plaques and materials that you can see and touch, both outside on the grounds and inside the studio. We also have many binders of photographs for your review. Our displays include an array of granite colors. Partner Chris Christiansen has a bachelor's degree in illustration from the Savannah College of Art and Design and often assists our clients who want hand-sculpted monuments.
Have you ever done work in the place where I want to install my memorial?
Since 1949, three generations of Christiansens have designed, made and installed monuments at hundreds of different cemeteries, museums, historic sites, war memorials, parks, schools, businesses, sports stadiums and other institutions. We maintain excellent professional relationships with the supervisors of each location where we work, and we're constantly adding new sites to our list. We know each installation site's rules and regulations and we design your memorial with those restrictions in mind. Whether your memorial is the first or the hundredth we have installed in a particular site, rest assured that it will be installed perfectly.
You're based in Pennsylvania but I want you to install my memorial elsewhere. Do you install memorials in other states?
Yes, we do. We work primarily in Pennsylvania, New Jersey and Delaware, but if you have another state in mind, please contact us to discuss your options.
Do you quote prices over the phone or by email? Can I design my memorial online?
No. We like to meet our clients in person so they can compare designs, materials, sizes and lettering styles. It usually takes from an hour to multiple visits for our clients to choose the perfect memorial for their needs, a process that simply cannot take place over the phone or by email. Our clients want memorials to honor their loved ones forever, so they find it worth their time to discuss and design them in person.