Christiansen Memorials in the News
Historic and Notable Local Cemeteries
Research
CHRISTIANSEN MEMORIALS IN THE NEWS:
"EMC Elementary students remember Skyler Kauffman on her birthday," by Brian Bingaman, Souderton Independent, June 15, 2011.
"Hoisting Pieces For Posterity,"The Morning Call, October 27, 1997.
"This Family-Run Firm Truly Etched In Stone," Perkasie News-Herald, April 10, 1996.

HISTORIC AND NOTABLE LOCAL CEMETERIES: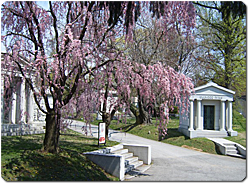 The Delaware Valley includes hundreds of remarkable cemeteries. Christiansen Memorials has worked in many of them. Learn about some of the beautiful, interesting, historic cemeteries in our region – and some of the famous people who rest there forever:
Catholic Cemeteries in the Archdiocese of Philadelphia: The Archdiocese of Philadelphia covers the City and County of Philadelphia, plus Bucks, Chester, Delaware and Montgomery counties in Pennsylvania. The Archdiocese's website includes information about and maps of the Archdiocese cemeteries of All Souls (Coatesville), Calvary (West Conshohocken), Cathedral (Philadelphia), Holy Cross (Yeadon), Holy Sepulchre (Philadelphia), St. John Neumann (Chalfont), New Cathedral (Philadelphia), SS. Peter and Paul (Springfield), Resurrection (Bensalem), Immaculate Heart of Mary (Linwood), St. Michael (Chester), All Saints (Newtown) and Holy Saviour (West Grove).
Christ Church, Philadelphia, PA: Founded in 1695, Christ Church is located in the heart of historic Philadelphia and was the first Anglican church in Pennsylvania. Worshippers included former U.S. Presidents George Washington and John Adams. Benjamin Franklin, Benjamin Rush and other signers of the Declaration of Independence are buried at the church or in the nearby Christ Church Burial Ground, established after the original cemetery filled up in 1719.
Doylestown Cemetery, Doylestown, PA: Founded in 1849, this nondenominational cemetery is the final resting place of more than 10,000 people. Prominent interments include W. Atlee Burpee and David Burpee, founder and former president, respectively, of Burpee Seed Company; William Doyle, tavern owner after whom Doylestown was named; traveler, lecturer and author W. Edgar Geil, the first Westerner to traverse the Great Wall of China; W.W.H. Davis, a Civil War general, Mexican War veteran, first governor of the Territory of New Mexico, and co-founder of the Bucks County Historical Society with Henry Chapman Mercer; and prominent architect A. Oscar Martin, who designed many Bucks County buildings.
Eden Cemetery, Collingdale, PA: In 1902, Jerome Bacon, a teacher at the former Institute for Colored Youth (later Cheyney State College), founded Eden Cemetery as an African-American cemetery. On August 12, 1902, Celestine Cromwell was the first person buried there. Later, African-Americans buried elsewhere in the area were reinterred in Eden Cemetery, including those from Lebanon Cemetery (moved in 1903), Stephen Smith Home Cemetery (moved in 1904), and Olive Cemetery (moved in 1923).
Evergreen Cemetery, Gettysburg, PA: Founded by David McConaughy in 1854, Evergreen Cemetery is the resting place of many Civil War soldiers killed in the bloody Battle of Gettysburg (July 1-3, 1863). A year before the battle, McConaughy received little support for a Soldiers' Cemetery as part of Evergreen because only two Gettysburg natives had been killed during the Civil War. Sadly, with more than 51,000 Union and Confederate soldiers killed, wounded or captured during the vicious Battle of Gettysburg, many rapid interments in Evergreen Cemetery soon followed.
Franconia Mennonite Church, Franconia, PA: Founded in 1729, the Franconia Mennonite congregation is one of the oldest Mennonite congregations in Pennsylvania. In 1683, the first Mennonite immigrants arrived in Germantown, PA, now a Philadelphia neighborhood. Some later moved to Skippack in 1702, to Salford in 1728, and to "Indianfield" (now Franconia Township) in 1731. The cemetery includes many interments from the 1700s, including families of the earliest Mennonite settlers.
Gloria Dei (Old Swedes') Church, Philadelphia, PA: Built in 1700 to replace an earlier sanctuary, Gloria Dei is the oldest church in Pennsylvania and a National Historic Site. In 1703, the first regular Lutheran ordination in the Western hemisphere took place in Gloria Dei. In the mid-1700s, Dr. Carl Magnus Wrangel baptized more than twenty Africans as members of Gloria Dei, making it one of the first multiracial congregations in the American Colonies. Burials in the cemetery include Revolutionary War and Civil War soldiers and officers; painter and Revolutionary War officer James Peale, brother to artist Charles Wilson Peale; Alexander Wilson, the father of American ornithology; and Amandus Johnson, scholar and founder of the American Swedish Historical Museum.
Laurel Hill Cemetery, Philadelphia, PA: When John Jay Smith, Nathan Dunn, Benjamin W. Richards and Frederick Brown founded Laurel Hill Cemetery in 1836, it was the second romantic, landscaped, scenic "rural cemetery" founded in the United States, after Mount Auburn Cemetery in Cambridge, Massachusetts (1831). Listed in the National Register of Historic Places, Laurel Hill Cemetery is perched on the cliffs above the Schuylkill River and Kelly Drive in Philadelphia. Notable people buried in Laurel Hill include forty Civil War-era generals, the most famous of whom is Union General George Meade, who valiantly commanded the Army of the Potomac at Gettysburg. President Ulysses S. Grant, General William T. Sherman and hundreds of Civil War veterans attended his funeral. Other burials include Harry Kalas, Hall of Fame announcer for the Philadelphia Phillies; early well-known Philadelphia families including the Rittenhouse, Widener, Elkins and Strawbridge clans; six passengers of the ill-fated Titanic; and noted architect Frank Furness, who received the Congressional Medal of Honor for his Civil War service.
Mikveh Israel Cemetery, Philadelphia, PA: Founded in 1740, the Mikveh Israel Cemetery is a National Shrine and part of Independence National Historical Park. In 1737, Jewish trader Nathan Levy settled in Philadelphia where he and his cousin, David Franks, formed Levy and Franks, an import and merchant firm. When his child died the next year, Levy appealed to William Penn's son, Thomas Penn, Chief of the Proprietary Government of Pennsylvania, for private, hallowed ground for the burial. Levy was allowed to buy land on Walnut Street between Eighth and Ninth streets and in 1740, he established a permanent cemetery on Spruce Street between Eighth and Ninth. Thomas Penn ordered the land to be held in trust as a Jewish burial place. Jewish services were held in a rented house sometime in the mid-1700s and the group established a formal congregation in the 1770s. The Mikveh Israel Cemetery is Philadelphia's oldest tangible evidence of Jewish communal life.
Mount Moriah Cemetery, Philadelphia, PA: A National Historic Landmark also listed in the Philadelphia Register of Historic Places, Mount Moriah Cemetery was one of the city's grand rural cemeteries. The cemetery suffers from serious neglect but politicians and local supporters are attempting to rectify the situation. Notable burials at Mount Moriah include William F. Greenwood, a Major League ballplayer from 1882-1890 and the all-time leader in games played at second base by a left-hander; and Samuel Sloan, famous 19th century architect who wrote popular books such as The Model Architect, City and Suburban Architecture, Sloan's Constructive Architecture, Sloan's Homestead Architecture and American Houses, and A Variety of Designs for Rural Buildings. One of the most unusual monuments in the cemetery is that of William Rowland, who served on the USS Minnesota during the Civil War. His monument is shaped like the USS Monitor, the ironclad warship that saved the immobilized USS Minnesota during the Battle of Hampton Roads against the Confederate CSS Virginia (formerly the USS Merrimack).
National Shrine of Our Lady of Czestochowa, Doylestown, PA: In the 1950s, Father Michael M. Zembrzuski's dream to create a Polish-American religious and cultural center in the Doylestown area came true. Founded on a former farmstead, the National Shrine of Our Lady of Czestochowa began with a monastery and chapel. On October 16, 1966, U.S. President Lyndon B. Johnson and his family, Archbishop John Krol, Catholic Church and State officials, and pilgrims from around the world witnessed the dedication of the new Shrine to the honor of Our Lady of Czestochowa, the Queen of Peace. The National Cemetery of Our Lady of Czestochowa is located behind the Shrine and includes a general section dedicated to all Catholics, a section dedicated to clergy and monks, an Honor Section, a War Veteran's section, and large sculptures depicting significant cultural, artistic, patriotic and religious events related to the Polish people.
Neshaminy-Warwick Presbyterian Church, Warminster, PA: Organized in 1726 by the Reverend William Tennent, the Neshaminy-Warwick Presbyterian congregation built its first Meeting House in 1727 (since replaced). In 1777, General George Washington encamped nearby and held a court martial in the church sanctuary. Charged with disobeying orders, Captain Henry Lee was acquitted with honor. Lee subsequently served valiantly as "Light Horse Harry" and became Governor of Virginia, a Congressman and father of Confederate General Robert E. Lee. Among other burials, the cemetery includes the unmarked graves of Revolutionary War soldiers who died during Washington's 1777 encampment.
Newtown Friends Meeting, Newtown, PA: Listed in the National Register of Historic Places, the Newtown Friends meetinghouse dates to 1817. Folk painter Edward Hicks founded the congregation and is buried in the cemetery. Some of his paintings are in the National Gallery of Art, Brooklyn Museum, Abby Aldrich Rockefeller Folk Art Collection, Philadelphia Museum of Art, the Metropolitan Museum of Art, American Folk Art Museum in New York City, and many other collections.
Philadelphia National Cemetery, Philadelphia, PA: The United States established fourteen national cemeteries in 1862, including the Philadelphia National Cemetery, now listed in the National Register of Historic Places. Notable burials include two Medal of Honor recipients and sixty-six Buffalo Soldiers (a nickname Cheyenne warriors respectfully gave to the 10th Cavalry, one of six African-American Army units established by the federal government in 1866; the term was later applied to all African-American soldiers). The Philadelphia National Cemetery includes several monuments and memorials for United States conflicts, including the Revolutionary War, Mexican War, and a Confederate Soldiers and Sailors Monument.
Plumstead Friends Meeting, Doylestown, PA: The Religious Society of Friends (Quakers) began meeting at Plumstead in 1730. In 1752, a small stone meetinghouse replaced the original log cabin. The stone building was rebuilt in 1875. Two members of the legendary outlaw Doane Boys, Levi and Abraham Doane, are buried just outside the cemetery walls. In 1783, the Pennsylvania General Assembly had passed an Act branding the Doanes as "robbers, felons, burglars and traitors" to the American cause. They were hanged for their crimes in September 1788 and denied burial within the cemetery.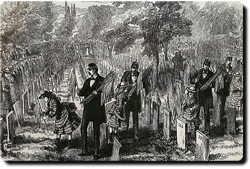 Riverview Cemetery, Wilmington, DE: Opened in 1872, the non-denominational Riverview Cemetery was designed like a Victorian garden. Its 87 acres hold more than 36,000 burials with space for 20,000 more. Burials in Riverview include a Civil War Medal of Honor recipient; Clarence A. Southerland, Delaware's first Supreme Court Justice, and Sybil U. Ward, one of the first two female attorneys admitted to the Delaware Bar.
Soldiers' National Cemetery, Gettysburg, PA: From July 1-3, 1863, the Battle of Gettysburg waged in this previously quiet, small Pennsylvania town. More than 51,000 Union and Confederate soldiers were wounded, killed or captured during the gruesome conflict. On November 19, 1863, Abraham Lincoln delivered his Gettysburg Address at the consecration of the Soldiers' National Cemetery at Gettysburg. The cemetery was completed in March 1864, with nearly 4,000 Union dead reburied at the hallowed site. The cemetery includes about 6,000 burials from the Civil War and other subsequent conflicts.
Wilmington and Brandywine Cemetery, Wilmington, DE: Notable burials include Richard Bassett (1745-1815, Signer of the U.S. Constitution, former U.S. Senator, and former Governor of Delaware); veterans of the Revolutionary War, French and Indian War, Civil War, both World Wars and other conflicts; and former U.S. Senators, Congressmen and Governors of Delaware.

RESEARCH
You can do unlimited cemetery, genealogical and historic research online. We have collected a few sites to get you started: