Integrity. Experience. Compassion.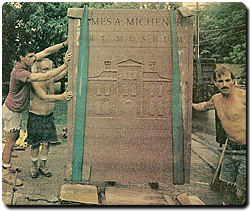 Since 1949, three generations of Christiansens have designed, made and installed monuments at hundreds of different cemeteries, museums, historic sites, war memorials, parks, schools, businesses, sports stadiums and other locations. After more than seventy years in business, we have seen monument styles and materials change, have solved every type of monument problem, and have seen competitors come and go. When you choose Christiansen Memorials to create your memorial, you get the benefit of our vast experience. You'll work directly with Edward T. Christiansen III ("Chris"), Thomas Christiansen, Jr. ("Tom") and Paige Swartley Christiansen.
We are proud to be a third-generation family business. We work hard to maintain the ideals, quality and customer service that our grandfather – Edward T. Christiansen, Sr. – offered when he founded our business in Philadelphia, Pennsylvania. Starting in 1949, he set monuments for funeral homes, cemeteries and monument companies in the Philadelphia metropolitan area. The business was extremely successful, installing about forty-five percent of the tombstones in and around Philadelphia. Over time, the business expanded by selling memorials wholesale, plus sandblasting and designing monuments for a wide variety of customers.
Mr. Christiansen's sons Edward T. Christiansen, Jr. ("Ed") and Thomas A. Christiansen, Sr. joined the business in the late 1960s, increasing the amount and type of work the firm could handle. The business expanded again in 1983, when Christiansen Memorials moved to Montgomeryville, Pennsylvania. We personally designed and built our new office and shop, ensuring that it could accommodate our growing workload. As part of the expansion, we began selling retail monuments in 1984. Also in the 1980s, third-generation Christiansens – Edward T. Christiansen III ("Chris") and Thomas A. Christiansen, Jr. (Tom") – joined their grandfather, fathers, uncles and cousins in the family business. Like their fathers did before them, Chris and Tom learned the business as kids and joined the company full-time after college.
Today, Chris, Tom and Paige proudly carry on the Christiansen family tradition of serving families and institutions throughout the Delaware Valley and beyond. With more than one hundred years of collective experience, Christiansen Memorials installs memorials better than anyone else in the business. We use modern equipment as well as traditional methods and equipment – including the durable handtruck that founder Edward Christiansen, Sr. used when he started the firm in 1949.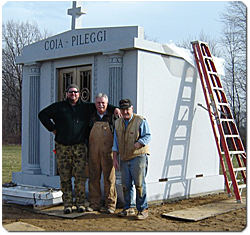 We have designed and installed thousands of memorials in public and private cemeteries in Pennsylvania, Delaware and New Jersey. We offer memorials in every size, shape, style, color and price, ranging from the simplest tombstones to the grandest mausoleums. Each piece is designed with the utmost care to reflect your loved one's personality, life and interests, all while staying within budget. We maintain strong relationships with local funeral directors and cemetery supervisors who value our professionalism, integrity and strong work ethic. We work closely with them to ensure that your memorial is installed properly and meets all regulations.
We also have many public and institutional clients in the Delaware Valley. For example, Christiansen Memorials has worked for the James A. Michener Art Museum in Doylestown, PA; Nobel and Pulitzer Prize winning author Pearl S. Buck's Green Hills Farm, a National Historic Landmark in Perkasie, PA; Citizens Bank Park, home of the Philadelphia Phillies; the Philadelphia Museum of Art; Pennridge High School in Perkasie, PA; Germantown Academy in Pennsylvania; and many other clients.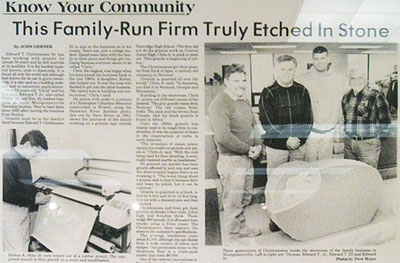 We take great pride in giving our clients exceptional customer service, paying strict attention to detail and offering the most competitive prices. We only deal with manufacturers whom we know and trust, so we're confident you'll receive the best quality memorial at the most reasonable price. We never pressure customers to make a purchase. Our clients are so satisfied that many of them return for a second, third or fourth memorial for other family members. We are honored to help families through the difficult and emotional task of choosing a dignified memorial. We also enjoy helping businesses, schools and other institutions design the best monuments for their needs. Receiving "thank you" notes is one of the most rewarding aspects of our work. You can read some of them here.
When you choose a memorial, perfection matters. If something goes wrong, we won't rest until it's right. Since 1949, Christiansen Memorials has treated every job as if it's for someone in our own family, because our family name is on your memorial.
Testimonials
"Thank you for all your kind help at this very difficult time for me and my family. The caring atmosphere of your business was very comforting. Thanks again." ~ The B. Family
"Mr. Christiansen went to Doylestown Cemetery and measured my parents' headstone and noted the shade of granite so that our headstone would then blend with theirs. We made several trips to talk with Mr. Christiansen and to decide the lettering to be used and each time we met with him we were treated with respect and kindness. We are very thrilled with our purchase and highly recommend you." ~ Ruth
"Thanks for such prompt, exceptional service. We will definitely recommend you in the future!" ~ Tom & Sheila
"My children and I want to express our heartfelt appreciation to you for your kindness, helpfulness and patience during our time of grief to select a headstone. Your experience and knowledge guided us through the process, making it so much easier to bear. We miss my husband very much and are comforted that he has such a beautiful headstone marking his final resting place. God bless. P.S. My father's headstone looks great. Thank you for making it level and cleaning it up." ~ Eileen
"Thank you so much for the fine work on my husband's headstone. I was very pleased when I saw it. I'm sure my husband would have been very pleased with my selection. So again, thank you." ~ Evelyn